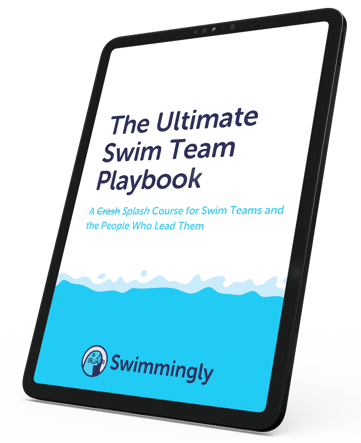 Click here to download the PDF!
The Ultimate Swim Team Playbook
Transforming Swim Meets Everywhere!
In the world of swimming, every second counts. Not just in the water but also on the pool deck, behind the scenes, where all the magic unfolds. Whether you're an aquatics director, a coach, a swim parent, or a die-hard swim enthusiast, we understand the intricacies and challenges that come with organizing and participating in swim meets. It's with this understanding and shared passion that we proudly introduce:
The Ultimate Swim Team Playbook.
Diving In: The Creation of the Playbook
Charlie Houchin, our esteemed CEO and Founder of Swimmingly, also happens to be a swimmer at heart, a facility site director, a coach, and, yes, a US Olympic Gold Medalist. But his heart is firmly placed poolside, with every coach, every volunteer, and every swimmer who strives to make swim meets a memorable experience. Drawing from his personal journey, he sought to address the real-life challenges faced by the swim community.
In his words, "We've all seen the stressed faces when swim meets run long, taking time away from families and other important aquatics programs." And so, with a vision to streamline this process and make swim meets efficient, engaging, and enjoyable, the Ultimate Swim Team Playbook was born.
What's Inside the Playbook?
The Swim Team Field Guide: This section is packed with meticulous checklists tailored for every individual on the pool deck. From leaders to volunteers, from parents to spectators, and, of course, the swimmers themselves. These checklists serve as a compass, ensuring a successful swim season.

Ready-Made Swim Season Templates:

Time is of the essence. With our collection of templates, you'll save precious hours, allowing you to concentrate on what truly matters. This includes promotional materials, email and social templates, season kickoffs, reminders, and celebratory messages.

Operational and Organizational Tools:

Dive into user-friendly tools like the Swim Team Budget Template, Practice Trackers, and Post-Meet Evaluation sheets. Plus, our Certificate and Signage Templates will bring that professional touch to your events.

Convince Your Boss/Committee Sheet:

We've included a comprehensive sheet to help you highlight potential savings, benefits, problem-solving strategies, and success stories, making it easier for decision-makers to see the value.

On-Demand Demo of Swimmingly:

A sneak-peek into the magic of Swimmingly, this demo provides a first-hand experience of its transformative capabilities.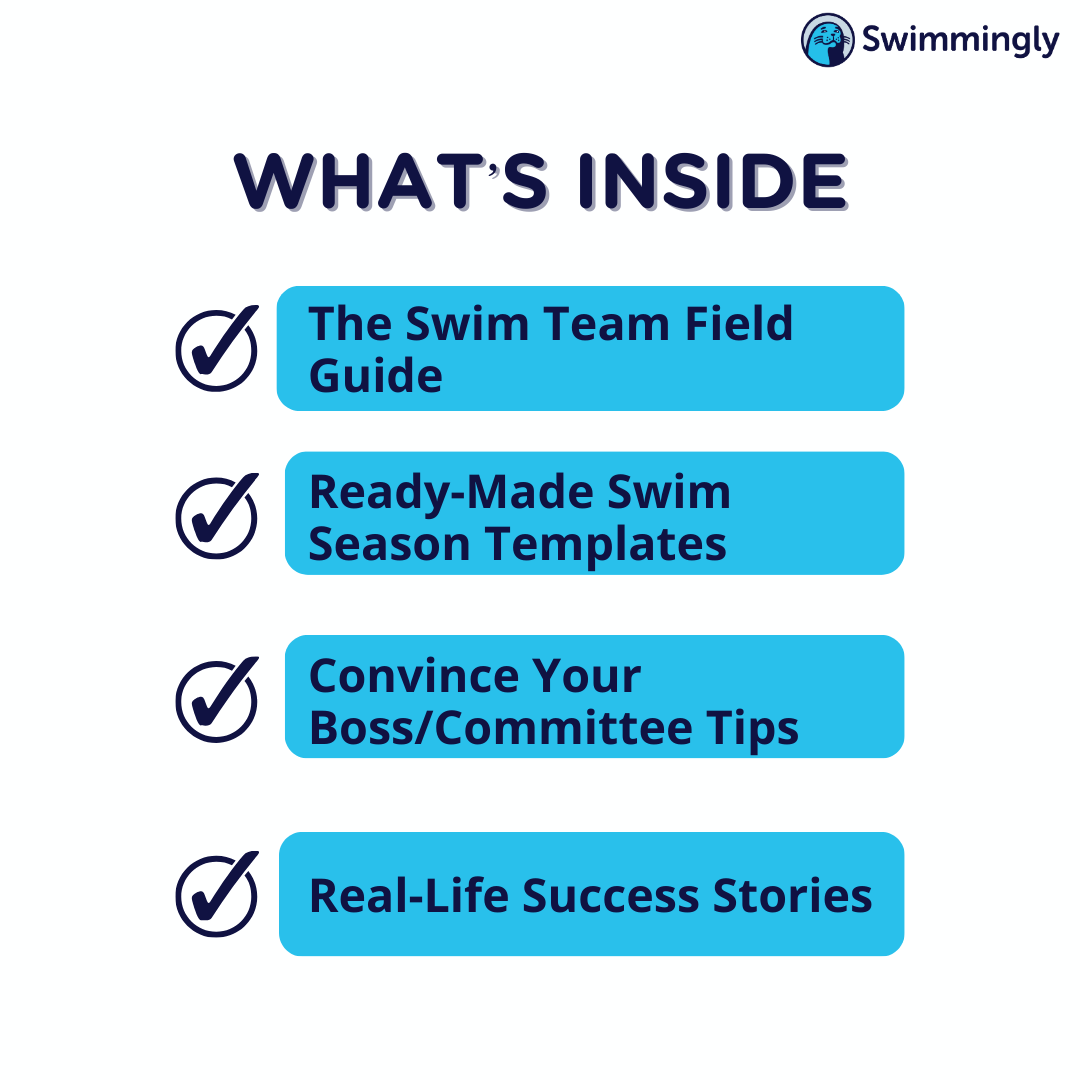 The Playbook's Ripple Effect
The true beauty of this playbook lies not just in its content but its intent. By equipping swim teams and leaders with such a valuable resource, we aim to foster a community where swim meets become occasions of joy, camaraderie, and excellence.
In Charlie's words, "This springboard can serve as a way for you to make your swim meets a splashing success, and more importantly, reclaim time for what matters most—families connecting and kids loving the sport."
Discover how the Ultimate Swim Team Playbook can redefine your swim experience. Whether you're starting out or seeking that extra push towards excellence, this playbook is your companion. For more insights, stories, and resources, stay tuned with us.