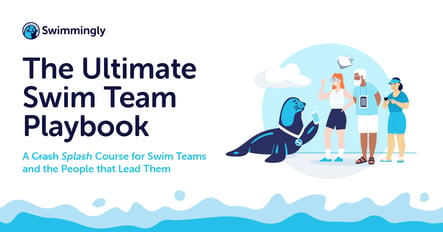 Click here to download the PDF!
Why Every Swim Parent Needs a Checklist
Ensuring a Smooth Swim Season for your Young Athlete
At the heart of every swim meet's excitement, where athletes slice through water and the air is electric with cheers, are the swim parents. These unsung heroes, often unnoticed in the background, play an essential role in their young athlete's success. Their challenge? To ensure everything from the fit of a swim cap to the nutritional needs is meticulously planned. This is where a well-crafted checklist becomes indispensable.

1. Navigating the Meet with Ease
The environment of a swim meet is a whirlwind of activity. With a myriad of events and age groups, crucial details can easily be missed. A comprehensive checklist is the antidote to this chaos, ensuring that every necessity, from spare goggles to extra towels, is remembered. This preparation allows parents to focus on supporting their athlete, transforming potential stress into a calm, controlled experience.
2. The Power of Preparation
For swim parents, being informed is not just helpful, it's empowering. Knowing the day's schedule, understanding the events their child is participating in, and having a clear action plan can make a world of difference. A checklist serves as a strategic guide through the intricacies of the meet, ensuring timely presence and heartfelt encouragement.
3. Fueling Young Athletes
In the demanding world of competitive swimming, proper nutrition is pivotal. A swimmer's performance is directly influenced by their diet, especially during back-to-back events. A thoughtfully prepared checklist ensures that young athletes are well-fueled with the right snacks and hydration, supporting their physical and mental endurance.
4. Fostering Responsibility in Young Swimmers
A checklist is more than a parental tool; it's a valuable lesson in responsibility for young swimmers. When parents involve their children in the checklist process, or encourage them to create their own, it fosters a sense of ownership and accountability. This collaborative approach teaches vital life skills in organization and preparedness.
5. Strengthening Bonds Through Teamwork
The act of going through a checklist can be a meaningful bonding activity. This time allows parents and swimmers to connect, discuss needs, and jointly prepare for the competition ahead. It's a collaborative effort that strengthens the parent-child relationship, grounded in mutual understanding and support.
6. The Ultimate Swim Parent's Companion
Recognizing the integral role of swim parents, resources like the 'Ultimate Swim Team Playbook' offer essential tools, including the 'Parent Checklist'. Designed with practical insights and tailored tips, this checklist is crafted to equip parents with everything they need for a smooth and successful swim experience for their child.
7. The Shared Dream of Enhanced Swim Meets
Echoing the sentiments of Charlie Houchin, CEO & Founder of Swimmingly, the aim is to make swim meets more efficient, enjoyable, and less time-consuming. Tools like the Parent Checklist are key to realizing this vision, enhancing the overall experience for athletes and their families.
What's Inside the Playbook?
The Swim Team Field Guide: This section is packed with meticulous checklists tailored for every individual on the pool deck. From leaders to volunteers, from parents to spectators, and, of course, the swimmers themselves. These checklists serve as a compass, ensuring a successful swim season.

Ready-Made Swim Season Templates:

Time is of the essence. With our collection of templates, you'll save precious hours, allowing you to concentrate on what truly matters. This includes promotional materials, email and social templates, season kickoffs, reminders, and celebratory messages.

Operational and Organizational Tools:

Dive into user-friendly tools like the Swim Team Budget Template, Practice Trackers, and Post-Meet Evaluation sheets. Plus, our Certificate and Signage Templates will bring that professional touch to your events.

Convince Your Boss/Committee Sheet:

We've included a comprehensive sheet to help you highlight potential savings, benefits, problem-solving strategies, and success stories, making it easier for decision-makers to see the value.

On-Demand Demo of Swimmingly:

A sneak-peek into the magic of Swimmingly, this demo provides a first-hand experience of its transformative capabilities.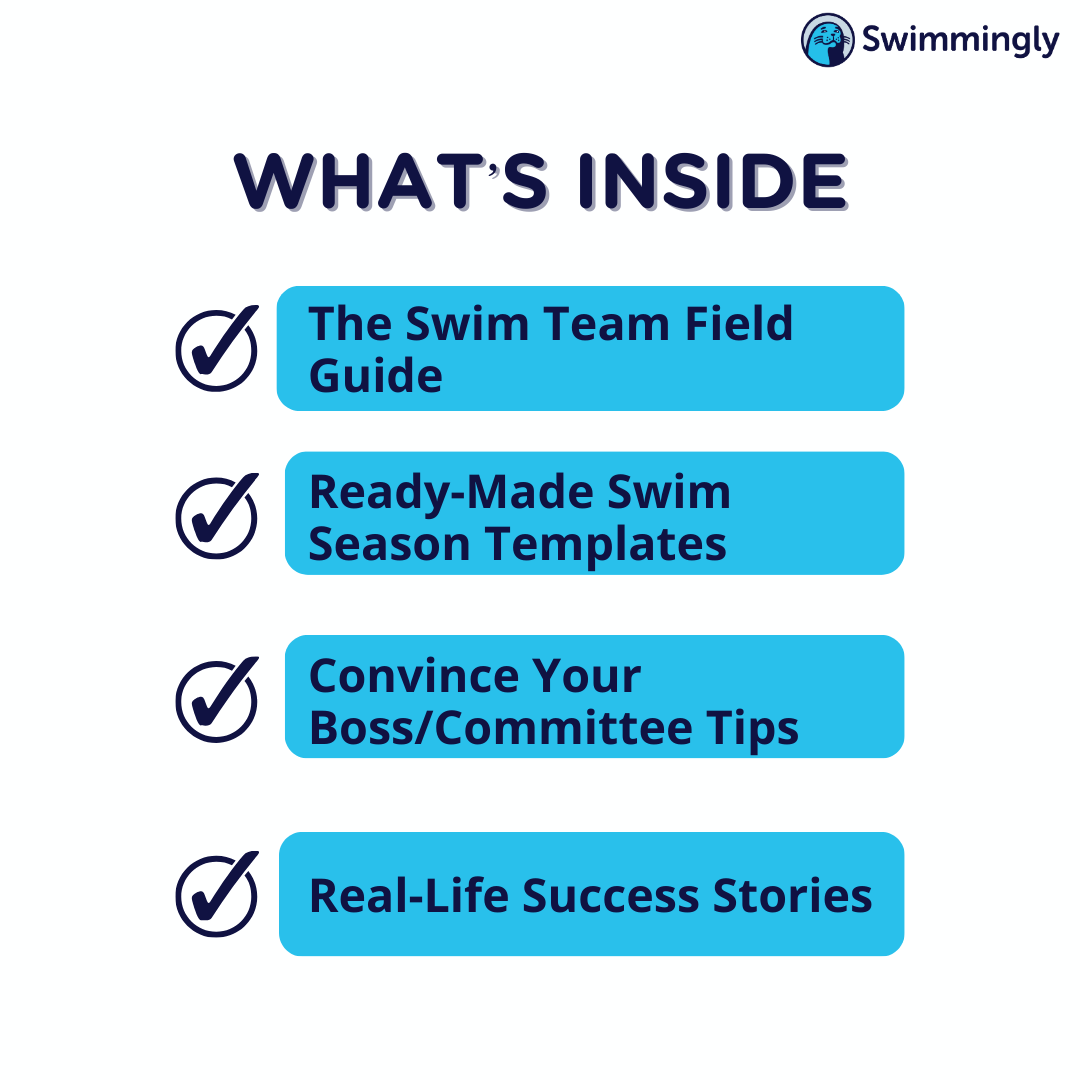 The Playbook's Ripple Effect
The true beauty of this playbook lies not just in its content but its intent. By equipping swim teams and leaders with such a valuable resource, we aim to foster a community where swim meets become occasions of joy, camaraderie, and excellence.
In Charlie's words, "This springboard can serve as a way for you to make your swim meets a splashing success, and more importantly, reclaim time for what matters most—families connecting and kids loving the sport."
Discover how the Ultimate Swim Team Playbook can redefine your swim experience. Whether you're starting out or seeking that extra push towards excellence, this playbook is your companion. For more insights, stories, and resources, stay tuned with us.