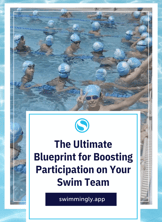 Click here to download the PDF!
The Ultimate Blueprint for Boosting Participation on Your Swim Team
Race with Joy: Make Every Swim Memorable
Sportsmanship First: Beyond Wins and Losses
Swimming, at its core, is not just about crossing the finish line first; it's about the journey, the discipline, and the bonds forged along the way. To solidify this principle:
The Spirit of Goodwill:

Organize pre-meet pep talks or workshops emphasizing the importance of sportsmanship. Bringing in seasoned swimmers or motivational speakers can give young athletes perspectives beyond the race.

Interactive Initiatives:

Host mini-games or challenges during practices that emphasize teamwork and good sportsmanship over winning. For instance, have swimmers pair up; one swims while the other cheers, emphasizing the role of support in sports.

Rewards Beyond Medals:

Recognize and reward acts of sportsmanship at the end of each meet. Trophies and medals aren't just for winners but for those who showcased exceptional camaraderie too.
Surprise Heats: Keeping the Momentum High
The idea behind 'Prize Heats' is to add an unexpected layer of excitement and break the monotony. Here's how to make the most of it:
Themed Heats:

Go beyond the bell or song; introduce themed heats like 'Superhero Splash' or 'Backward Race'. This can be especially fun for younger age groups.
Community Involvement:

Allow local businesses to sponsor some of these prize heats. This not only takes care of the prizes but also gets the community more involved and invested in the swim meets.

Feedback Loops:

After each meet, gather feedback from swimmers about the 'Prize Heat'. Did they love it? Any suggestions? This way, you continually innovate and ensure it's always a hit.
Relay for All: The Real Test of Teamwork
Relays are often perceived as the domain of the elite, but they offer an unparalleled avenue for teamwork. Here's how to reframe the narrative:
Skill Diversity:

Emphasize that relays are about combined team strength, not just speed. Differentiate teams based on different skill sets, ensuring a mix of sprinters, distance swimmers, and those with strong technical skills.

Intra-Team Championships:

Host internal relay championships, where different combinations of swimmers can team up. This allows swimmers to experience the relay format with various teammates, fostering adaptability.

Celebrate Teamwork:

Post-relay, have a team debrief session. Let swimmers share their experiences, what went well, and areas of improvement. It's a learning opportunity and reinforces the 'team' spirit of relays.
In essence, the joy of swimming should resonate both in the individual's spirit and the collective heartbeat of the team. Embracing these strategies ensures that every splash is a step towards creating lasting memories.
Swift Swim Meets: Efficiency is Key
Fly-Over Starts: Seamless Transitions
Mastering Momentum:

Fly-over starts play on the principle of maintaining momentum. Rather than pausing after each heat, this method keeps the pace going. It not only maximizes efficiency but also keeps swimmers and spectators engaged.

Guided Transparency:

It's crucial to have both visual and auditory signals for fly- over starts. Using colored flags, accompanied by distinct sound cues, ensures that participants are always in the loop.

Orientation & Briefing:

Prior to the meet, organize briefing sessions or workshops for swimmers and coaches, familiarizing them with the fly-over procedure. This proactive approach ensures everyone is on the same page.
Go Hardware-Free: Embracing Simplicity
Reliability Over Complexity:

Traditional hardware might offer bells and whistles, but sometimes simplicity ensures reliability. Consider tools and apps that offer a more streamlined approach.

User Experience:

By going hardware-free, the setup and operation become more user-friendly. This reduces chances of errors and offers a smoother experience for volunteers and coordinators.

Adaptability:

The lack of reliance on heavy hardware makes the process adaptable to different pool environments and conditions, offering flexibility.
Practice Makes Perfect: Rehearsal Rewards
Real-Time Learning:

Hosting a fun meet offers a practical training ground. Volunteers get hands-on experience, allowing them to learn and adapt in real- time.

Problem Identification:

During the fun meet, coordinators can identify potential issues, making it easier to troubleshoot before the official meets commence.

Team Cohesion:

Volunteers, often being parents or community members, can bond during these sessions, fostering a sense of team spirit and camaraderie which translates to smoother official meets.
Efficient swim meets aren't just about speed, but also about ensuring each participant's efforts are recognized and celebrated without hitches.
Foster Teamwork: Beyond Lanes and Pools
The Essence of True Sportsmanship:
Victory vs. Values:

In the fast-paced world of competitive sports, there's a relentless chase for victory. Yet, beneath the gleam of medals and the roar of accomplishments, the pure essence of sportsmanship often gets overshadowed. It's crucial to strike a balance between the pursuit of success and the preservation of intrinsic values that make sports so enriching.

Creating a Camaraderie-centric Culture:

True sportsmanship is not solely reflected in the laurels one achieves but in the spirit with which one competes. It's about ensuring that the environment in and out of the pool, court, or field, is charged with a sense of camaraderie. This means valuing the journey as much as the destination, and understanding that every race or match is a shared experience, filled with highs, lows, struggles, and triumphs.

The Unspoken Language of Respect:

Simple gestures carry profound meanings. A nod before a race, a handshake after a tough match, or a consoling pat on the back after a narrow miss, speaks volumes. These gestures aren't just customary; they're symbolic. They emphasize mutual respect, acknowledge the effort invested, and celebrate the passion that drives each athlete. It's a reminder that in the grand scheme of things, the journey and the memories created along the way hold as much significance, if not more, than the result itself.
Building Bonds Beyond the Pool:
The Heart of Team Dynamics:

Although the splashes and races in the pool grab most of the limelight, the heart of a team's dynamics is often formed outside its bounds. The friendships, understanding, and mutual respect fostered away from the competitive setting lay the foundation for a strong, cohesive unit.

Unwinding and Understanding:

Activities unrelated to swimming, be it capture the flag games, team picnics, or even just casual hangouts, provide an informal setting for teammates to unwind. It's here, amidst laughter and shared stories, that barriers are broken down, and teammates get to see beyond the swimmer's persona, understanding each other's personalities, quirks, and dreams.

The Ripple Effect of Bonding:

The connections made outside the pool have a ripple effect that extends into competitions. When swimmers know each other's strengths, weaknesses, fears, and aspirations, they can better support and uplift one another during meets. This understanding leads to a harmonious collaboration, where the team doesn't just swim together but strives together, turning individual efforts into collective triumphs.
The Power of Collective Ambition:
Unity in Direction:

At the heart of every high-performing team lies a shared vision. It's not just about individual aspirations but a collective ambition that binds members together. This unified direction ensures that every member, regardless of their role, is working towards a common goal, making the journey as important as the destination.

Consolidating Voices:

Through mechanisms like team meetings, brainstorming sessions, and vision board activities, a team can consolidate various voices, opinions, and aspirations. These platforms ensure that every idea is heard, every concern addressed, and every suggestion considered. This collective brainstorming not only sharpens the team's objectives but also fosters a sense of collective ownership.

Inclusivity and Valuation:

Encouraging open dialogues about team goals and individual aspirations does more than just set a clear direction. It creates an environment where every member feels heard, valued, and integral to the team's journey. When individuals feel that their contribution is recognized and vital, it breeds commitment, loyalty, and a deeper investment in the team's collective success.
Engage the Backbone: Parents
Elevating the Audience Engagement:
Addressing the Drawbacks:

While swim meets are pivotal for athletes, spectators often find themselves battling bouts of boredom during extended durations. Recognizing this challenge opens doors to creative solutions aimed at elevating the overall viewing experience.

Interactive Engagement:

It's essential to break the monotony and keep the audience engaged. Innovative ideas like 50/50 raffles, trivia quizzes, or even audience polls during intervals introduce an element of fun and interaction. These segments not only serve as entertainment but also foster a sense of involvement and participation among the spectators.

A Community Affair:

When parents and spectators are entertained, they're more likely to be present, not just physically but also emotionally and mentally. Their enthusiastic participation, from cheering to joining in on the fun activities, adds vibrancy to the atmosphere. An engaged audience enhances the overall event, making it feel less like a routine meet and more like a community celebration.
Celebrating the Unsung Heroes:
Redefining Volunteering:

The concept of volunteering at swim meets should pivot from a sense of obligation to a feeling of empowerment and involvement. Volunteering isn't just about the tasks; it's about the experience, the camaraderie, and the fulfillment of being an essential part of a larger cause.

Efficiency and Comfort:

Simplifying tasks is paramount to ensure that the volunteer experience is enjoyable and not cumbersome. By providing well- organized tasks, clear instructions, and ensuring creature comforts like shade during hot events and refreshing snacks, we can ensure that our volunteers feel catered to and valued.

A Gesture Beyond Thanks:

While a simple 'thank you' is always appreciated, going the extra mile with a token of gratitude post-event makes a world of difference. Whether it's a small gift, a personalized note, or a special mention, these gestures communicate a deeper sentiment. They resonate with the message that every moment they dedicated, every task they undertook, and every challenge they faced did not go unnoticed and is deeply appreciated.
Bridging the Gap with Vibrancy:
Evolving the Role:

Traditionally, an announcer's voice was merely a guide through the event. However, in the modern context, it's about evolving into a dynamic communicator. The role is not just to narrate but to connect, engage, and create a memorable experience for the audience.

Injecting Fun and Energy:

Through trivia questions, impromptu shout-outs, or even a quick jest about a memorable event moment, the announcer can make listeners feel like they're a part of an interactive session, not just passive observers. This interactive element can transform the ambiance, adding a layer of excitement and unpredictability.

Holding the Audience's Pulse:

The goal is to keep the energy levels consistently high, ensuring that spectators are continually engaged. By weaving in these interactive elements and ensuring the commentary resonates with the audience's pulse, the announcer ensures that parents and spectators are captivated, experiencing a deeper connection to the event.